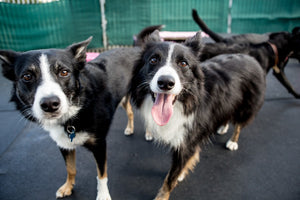 Day Care
Do you want your dog to get along with other dogs? Are you too tired after work to walk your dog? Has your dog become lazy and lacks energy? Then this is the place for your dog! Bring in your pup for a day of fun and exercise! This program is intended for all those dogs out there that want to make new friends while getting some exercise. Our doggie Day Care program offers both indoor and outdoor areas where your dog can be a DOG! Supervised at all times, every dog needs to pass a behavioral exam prior into admittance.  Please contact us at 406-894-2332 to schedule your Temperament Evaluation for your dog's first day of fun and excitement.
All Dogs staying at Paws & Claws are required to have a name tag to help identify your dog while enjoying their stay with us.
Paws & Claws offers one of the largest play areas in Billings, with 8 outdoor play areas covering approximately 2 acres, along with three indoor play areas totaling over 4,0000 sq ft.   All of the play areas are continuously supervised by our trained and professional staff.  Our ability to sort dogs into different play groups ensures there is never any overcrowding the dogs who like to play can be placed together while other shy or calmer dogs are placed together.  This keeps all dogs happy and in their own comfort zone.
Dog Day Care Includes:
3 Indoor play areas totaling over 3,000 sq ft.
All Indoor play areas are heated and cooled
Outdoor play areas over an acre in size
Continuous supervision
Dog Day Care Requirements 
Completed

 

Daycare Agreement
Dogs must be current on all vaccinations including Rabies, DDHP and Bordetella
Pets must first be evaluated to see which play group is the best fit
Dogs over 6 months of age must be spayed or neutered or extra charges will be applied.